Description
Jual OWC Data Doubler Mac Mini 2009
OWC Data Doubler Mac Mini 2009
Just a few of the configuration options you can enjoy with Data Doubler:
Creating an individual volume with its own desktop icon.
Combining a new drive with the existing internal drive for one larger volume (SPAN).
Combining a new matching drive with existing internal for high-performance RAID-0 Stripe volume.
Configuring a new drive as a Time Machine® backup drive.
Formatting one drive for the Mac OS and the other dedicated for Windows.
Compatible For:
Mac Mini 2009, iMac 20″ 2009, iMac 21.5″ 2009-2011, iMac 24″ 2009, iMac 27″ 2009-2011
Add up to an additional 1.0TB of internal storage. Add a Solid State Drive (SSD) for near instantaneous boot and app load. Even create a RAID array! Includes bracket screws, and detailed installation guide for complete all in one solution.Configuration flexibility is yours when you replace your Mac mini or iMac's* internal SuperDrive with the OWC Data Doubler. This custom engineered blue anodized aluminum bracket with adapter cable comes ready to mount any 9.5mm tall 2.5″ SATA hard disk drive and even Solid State Drives.
Jual OWC Data Doubler Mac Mini 2009
30 days warranty
---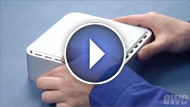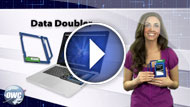 ---
Configuration flexibility is yours when you replace your 2009 Mac mini's internal SuperDrive with an OWC Data Doubler with a hard drive or SSD. The custom-engineered Data Doubler bracket comes ready to mount any 2.5″ SATA drive up to 12.5mm in height.
Jual OWC Data Doubler Mac Mini 2009
Once you've installed the entire Data Doubler drive assembly into your 2009 Mac mini's optical drive bay, you can customize how you want your internal storage to perform. Drive customization is easy and built right into OS X as the new Data Doubler mounted drive can be setup using Apple's Disk Utility program in which you can format the drive, create a RAID array using two drives together, or partition the new drive. Once formatted you can also setup the second drive as a Time Machine backup so you can take your backup with your wherever you go.
OWC provides free installation videos that guide this DIY upgrade step-by-step for each specific Mac model. Data Doubler also comes backed by OWC's award-winning U.S.A. based technical support team which is readily available to assist you with your upgrade should you have any questions.