Description
Jual Magsafe AC Long Cord Cable Indonesia type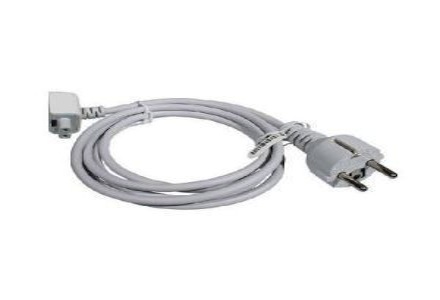 Compatible For:
Magsafe2
iPhone charger dan iPad Charger
---
New Original indonesia White Extension Power Cord,Long Cable FOR Apple Macbook Air laptops 
Brand New original & genuine

Color: White

Good for Apple 45W, 60W, 65W and 85W AC adapters/power chargers
Figure 2
AC Long Cord Cable Indonesia
Note: The Magsafe connector on your Magsafe Power Adapter may vary based on your computer. Additionally the AC cord and AC plug style may vary based on your country.
Removing the MagSafe Power Adapter from power
You should disconnect the MagSafe Power Adapter and disconnect any other cables if any of the following conditions exists:
You want to clean your Apple product.
If debris gets into the MagSafe power port.
There is an issue with a pin or pins on the MagSafe connector.
The power cord or plug becomes frayed or otherwise damaged.
Your Mac notebook or power adapter is exposed to rain, excessive moisture, or liquid has spilled into the case.
Your Mac notebook or power adapter has been dropped, the case has been damaged, or you suspect that service or repair is required.
The MagSafe power port
The MagSafe power port on your computer contains a magnet that can erase data on a credit card, iPod, or other device. To preserve your data, do not place these or other magnetically sensitive material or devices within 1 inch (25 mm) of this port.
Disconnecting the MagSafe Connector from your computer
Disconnecting the MagSafe adapter from the computer in the manner described in the table below will reduce wear on the adapter cable and will increase the life of your MagSafe Adapter.
Jual Magsafe AC Long Cord Cable Indonesia type