Description
Jual Obeng Pentalobe MacBook Retina dan Air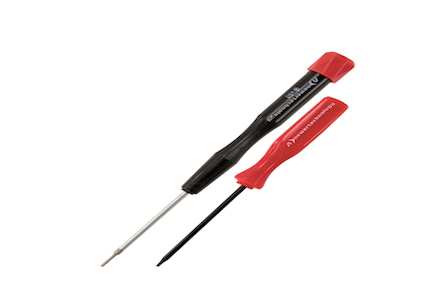 This kit includes one Torx T5 screwdriver and one 5-Point Torx Plus (pentalobe compatible) screwdriver – all the tools you need to install your OWC Aura Pro drive into your 2010 through 2012 MacBook Air & MacBook Pro Retina display.
Jual Obeng Pentalobe MacBook Pro Retina dan MacBook Air
Beat the proprietary lock on your MacBook Air or Pro Retina.
Fits the 5-point pentalobe screws found on the bottom of recent MacBook Air and all MacBook Pro with Retina Display laptops.
Sturdy precision driver with a solid metal shaft, rubberized plastic handle, and spinning top.
Fixed driver makes frequent repairs much easier.
Upgrade to pro for an ESD safe professional-grade driver.
---
Compatible with 2010-11-12 MacBook Air 11″ & 13″ & 2012 Retina Display MacBook Pro 13″ & 15″
Only fits bottom case screws on those mac laptops listed above. Other tools required for further repairs.
Description:
Decent mid-level quality screwdriver. (Not apple OEM tool). Features magnetic blade & easy turn swivel cap for comfortable use.
Compatible with 5-point star pentalobe fasteners for bottom cases on 2010-2012 MacBook Air & Retina Display MacBook Pro 13″ & 15″ models.
Jual Obeng Pentalobe MacBook Retina dan Air