Description
Screen Cable A1278 MacBook Pro 13 inch 2008 2010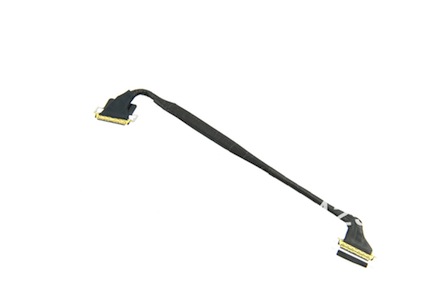 Screen Cable MacBook Pro 13″ A1278
Original Apple Parts
30 days warranty
Compatible For All MacBook Pro 13″ A1278
Screen Cable A1278 MacBook  Pro 13 inch 2008 2010
Display Cable for MacBook Pro 13″ A1278 MB466 467 990 991 MC374 375
Need a good quality lvds display cable for MacBook Pro 13″ A1278 2008 2009 2010
This is a replacement for MacBook Pro 13″ A1278 2008 2009 2010,When there is a strip of line on the screen or your macbook pro unibody output video does not come out properly,you may need the item replaced to solve such issues.
Test one by one before shipping
Good quality
Only 1pcs lvds display cable in the package
Note:
Do not pull on black tab or metal lock bar.
Pulling on tab to remove LVDS cable will likely result in metal lock bar being torn off cable body.
This bar is only to disengage lock from LVDS connector.
A broken lock bar results in a LVDS cable replacement.
jual LVDS cable Display
Compatible Model:
MacBook 13.3″ 2.0GHz Core 2 Duo (MB466LL/A, A1278, MacBook5,1) – Late 2008
MacBook 13.3″ 2.4GHz Core 2 Duo (MB467LL/A, A1278, MacBook5,1) – Late 2008
MacBook Pro 13.3″ 2.26GHz Core 2 Duo (MB990LL/A, A1278, MacBookPro5,5) – Mid 2009
MacBook Pro 13.3″ 2.53GHz Core 2 Duo (MB991LL/A, A1278, MacBookPro5,5) – Mid 2009
MacBook Pro 13.3″ 2.4GHz Core 2 Duo (MC374LL/A, A1278, MacBookPro7,1) – Mid 2010
MacBook Pro 13.3″ 2.66GHz Core 2 Duo (MC375LL/A, A1278, MacBookPro7,1) – Mid 2010
Screen Cable A1278 MacBook Pro 13 inch 2008 2010
Screen Cable A1278 MacBook Pro 13 inch 2008 2010