Description
Jual Mini Display VGA Cable Connector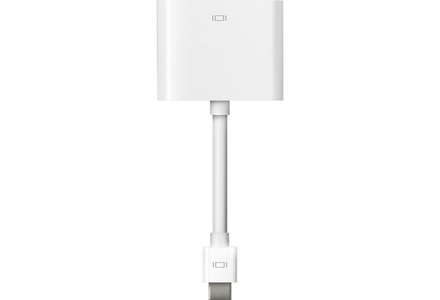 Apple Mini DIsplay VGA Cable Connector
Use the Mini DisplayPort to VGA Adapter to connect your Mac to a standard analogue monitor, projector, or LCD that uses a VGA connector or cable. Review the documentation or check with the manufacturer of your monitor to make sure you're choosing the right adapter.   Apple Mini DIsplay to VGA Cable Connector
Original Apple Parts – 30 days warranty Jual Mini Display VGA Cable Connector
Details
Mini DisplayPort allows you to connect an external display or projector using an adapter.
You can use an external display
as your main workspace or to extend your desktop,
or you can work in mirrored mode with a projector
so you can view what your audience sees.
Use the Mini DisplayPort to VGA Adapter to connect your Mac
to a standard analog monitor, projector, or LCD
that uses a VGA connector or cable.
Review the documentation or check with the manufacturer of your monitor to make sure you're choosing the right adapter.
Jual Mini Display VGA Cable Connector
| | |
| --- | --- |
| Actual Product Part Number | MB572Z |
| Comaptible Part Numbers (CPN) | This repair / replacement part is compatible with other replacement parts with the following part numbers:MB572Z/A |
| Compatible Device: | This repair / replacement part is compatible with the following device:Macbook Macbook pro iMac |
| Tutorials | Installation and repair of the phone / device should only be attempted by a qualified or experienced technician who has experience in repairing the exact same device. Tutorials on our websites functions as guideline only. As a customer, you can attempt it yourself, however at any point not sure, please stop and contact us ASAP, do not proceed with force. |
Jual Mini Display VGA Cable Connector
Jual Mini Display VGA Cable Connector
jual konektor Macbook to infocus