Description
Keyboard MacBook Pro 15 inch A1286 2009 2013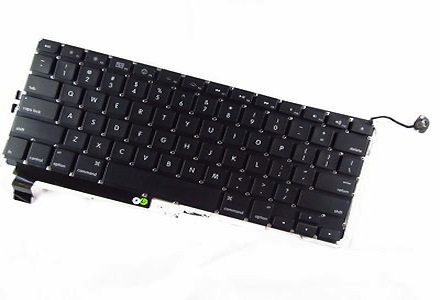 Keyboard MacBook Pro 15″ A1286 2010-2013
Original Apple Parts
Compatible For MacBook Pro 15″ A1286
2009 – 2013
7 days warranty
PERHATIAN:
Pengiriman unit ini WAJIB menggunakan Packing kayu dan asuransi.
Jumlah total berat yang diperlukan untuk mengirim unit ini adalah sebesar 2Kg
 Keyboard MacBook Pro 15 inch A1286 2009 2013
This is a keyboard-only replacement for the A1286 MacBook Pro 15″ Unibody.
This DOES NOT include the top case.
This is a more difficult replacement due to the number of screws involved.
This includes the keyboard and the backlight layer separately.
Keyboard MacBook Pro 15 inch A1286 2009 2013
Compatible :
Models
Model Numbers
MacBook Pro 15.4″ 2.0GHz Core i7 (A1286) – Early 2011
MC721LL/A
MacBook Pro 15.4″ 2.2GHz Core i7 (A1286) – Early 2011
MC723LL/A
MC723LL/A
MC723LL/A
MacBook Pro 15.4″ 2.2GHz Core i7 (A1286) – Late 2011
MD318LL/A
MD318LL/A
MacBook Pro 15.4″ 2.3GHz Core i7 (A1286) – Early 2011
MC723LL/A
MC723LL/A
MC723LL/A
MacBook Pro 15.4″ 2.3GHz Core i7 (A1286) – Mid 2012
MD103LL/A
MD103LL/A
MD103LL/A
MacBook Pro 15.4″ 2.4GHz Core 2 Duo (A1286) – Late 2008
MB470LL/A
MacBook Pro 15.4″ 2.4GHz Core i5 (A1286) – Mid 2010
MC371LL/A
MC371LL/A
MC371LL/A
MacBook Pro 15.4″ 2.4GHz Core i7 (A1286) – Late 2011
MD322LL/A
MD322LL/A
MacBook Pro 15.4″ 2.53GHz Core 2 Duo (A1286) – Late 2008
MB471LL/A
MacBook Pro 15.4″ 2.53GHz Core 2 Duo (A1286) – Mid 2009
MC118LL/A
MC118LL/A
MacBook Pro 15.4″ 2.53GHz Core i5 (A1286) – Mid 2010
MC372LL/A
MC372LL/A
MC372LL/A
MacBook Pro 15.4″ 2.5GHz Core i7 (A1286) – Late 2011
MD322LL/A
MD322LL/A
MacBook Pro 15.4″ 2.66GHz Core 2 Duo (A1286) – Early 2009
MC026LL/A
MacBook Pro 15.4″ 2.66GHz Core 2 Duo (A1286) – Mid 2009
MB985LL/A
MB985LL/A
MacBook Pro 15.4″ 2.66GHz Core i7 (A1286) – Mid 2010
MC373LL/A
MC373LL/A
MC373LL/A
MacBook Pro 15.4″ 2.6GHz Core i7 (A1286) – Mid 2012
MD104LL/A
MD104LL/A
MD104LL/A
MacBook Pro 15.4″ 2.7GHz Core i7 (A1286) – Mid 2012
MD104LL/A
MD104LL/A
MD104LL/A
MacBook Pro 15.4″ 2.8GHz Core 2 Duo (A1286) – Late 2008
MB471LL/A
MacBook Pro 15.4″ 2.8GHz Core 2 Duo (A1286) – Mid 2009
MB986LL/A
MB986LL/A
MacBook Pro 15.4″ 2.8GHz Core i7 (A1286) – Mid 2010
MC373LL/A
MC373LL/A
MC373LL/A
MacBook Pro 15.4″ 2.93GHz Core 2 Duo (A1286) – Early 2009
MC026LL/A
MacBook Pro 15.4″ 3.06GHz Core 2 Duo (A1286) – Mid 2009
MB986LL/A
MB986LL/A
Keyboard MacBook Pro 15 inch A1286 2009 2013