Description
Jual Glass Frame iMac 21 inch tahun 2010 – 2012
Glass Frame iMac 21.5″ 2010-2012
Compatible For:
Apple iMac 21.5″ Core2Duo, Core i5, Core i3
No Warranty
PERHATIAN:
Pengiriman unit ini WAJIB menggunakan Packing kayu dan asuransi. Jumlah total berat yang diperlukan untuk mengirim unit ini adalah sebesar 4Kg
---
Teardown of New 21.5-inch iMac Reveals Glued Down LCD and Dual Microphones
iFixit has released a comprehensive teardown of Apple's new 21.5″ iMac.
The new iMac, with its ultra slim bezel proved to be a disappointment to the iFixit team, because both the glass and the LCD are glued to the iMac frame with strong adhesive, which negatively impacts repairability.
The late 2012 iMac 21.5″ – code-named EMC 2544 – is an exercise in disappointment for us. We were quite worried when we saw that super-thin bezel during Apple's keynote, and unfortunately we were correct: the glass and LCD are now glued to the iMac's frame with incredibly strong adhesive. Gone are the lovely magnets that held the glass in place in iMacs of yesteryear.
While the RAM, hard drive, and CPU can be replaced, the entire logic board must be removed to do so, which led the iFixit team to give the 21″ iMac a repairability score of 3 out of 10, down from 7 out of 10 for last year's model.
Jual Glass Frame iMac 21 inch tahun 2010 – 2012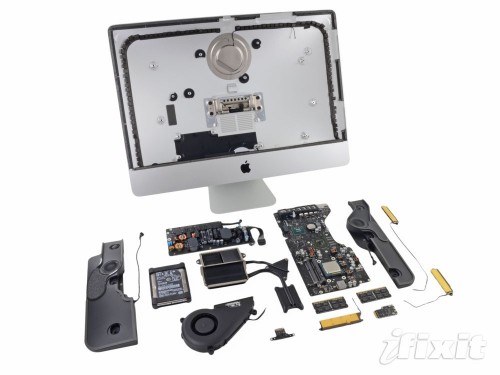 Here are the highlights of the teardown:
-Nothing about the internals of the new Mac resemble last year's model.
-Apple has swapped out the 3.5" desktop hard drive for a 2.5" HGST laptop hard drive, freeing up valuable space.
-The hard drive has a rubbery housing at its edges, which is a new design meant to dampen the vibrations from the hard drive in the closely packed quarters of the iMac.
-There are no longer multiple small fans. Instead, Apple is using a single centralized fan.
-Apple's new iMac has two microphones to improve sound quality when using FaceTime.
-The AirPort card uses a Broadcom BCM4331 single-chip WLAN solution and three Wi-Fi antennas.
iFixit's teardown also included a detailed listing of all of the chips on the logic board.
Despite the repairability concerns, early reviews for the design of the new iMac were largely positive.