Description
Top Case MacBook Pro 15 inch A1286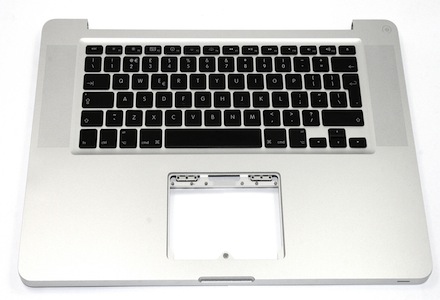 Top Case MacBook Pro 15″ A1286
Original Apple Partsx
Compatible For:
MacBook Pro 15″ A1286
Include: Keyboard, without TrackPad
Top Case MacBook Pro 15 inch A1286
PERHATIAN:
Pengiriman unit ini WAJIB menggunakan Packing kayu dan asuransi.
Jumlah total berat yang diperlukan untuk mengirim unit ini adalah sebesar 2Kg
Product Description:
This is a top case assembly for the 15″ MacBook Pro UNIBODY.

This is the piece that includes the trackpad, keyboard, and power button.
This item has multiple product options.
The list below includes all of those options.
Make sure you select the correct product option for your model.
Models
Model Numbers
SKU
MacBook Pro 15.4″ 2.4GHz Core 2 Duo (A1286) – Late 2008
MB470LL/A
GS17233
SKU17233
SKU1723341
MacBook Pro 15.4″ 2.53GHz Core 2 Duo (A1286) – Late 2008
MB471LL/A
GS17233
SKU17233
SKU1723341
MacBook Pro 15.4″ 2.66GHz Core 2 Duo (A1286) – Early 2009
MC026LL/A
GS17233
SKU17233
SKU1723341
MacBook Pro 15.4″ 2.8GHz Core 2 Duo (A1286) – Late 2008
MB471LL/A
GS17233
SKU17233
SKU1723341
MacBook Pro 15.4″ 2.93GHz Core 2 Duo (A1286) – Early 2009
MC026LL/A
GS17233
SKU17233
SKU1723341