Description
Top Case MacBook Air 11 inch A1370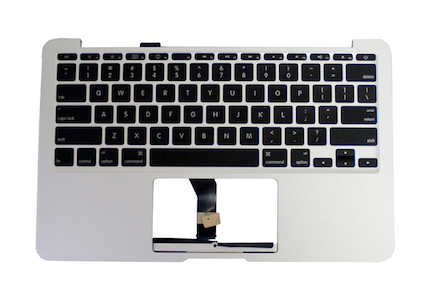 Top Case MacBook Air 11″ A1370
Original Apple Parts
Compatible For:
MacBook Air 11″ A1369
Include: Keyboard, without TrackPad
PERHATIAN:
Pengiriman unit ini WAJIB menggunakan Packing kayu dan asuransi.
Jumlah total berat yang diperlukan untuk mengirim unit ini adalah sebesar 2Kg
Top Case MacBook Air 11 inch A1370
This item has multiple product options.
The list below includes all of those options.
Make sure you select the correct product option for your model.
Models
Model Numbers
SKU
MacBook Air 11.6″ (A1465) – Mid 2013
MD711LL/A
MD712LL/A
MD711LL/A
MD712LL/A
SKU203383
GS203383
GS203383B
MacBook Air 11.6″ 1.4GHz Core 2 Duo (A1370) – Late 2010
MC505LL/A
MC506LL/A
SKU20338
GS20338
GS20338B
MacBook Air 11.6″ 1.6GHz Core 2 Duo (A1370) – Late 2010
MC505LL/A
MC506LL/A
SKU20338
GS20338
GS20338B
MacBook Air 11.6″ 1.6GHz Core i5 (A1370) – Mid 2011
MC968LL/A
MC969LL/A
SKU203381
MacBook Air 11.6″ 1.7GHz Core i5 (A1465) – Mid 2012
MD223LL/A
MD224LL/A
SKU203382
GS203382
GS203382B
MacBook Air 11.6″ 1.8GHz Core i7 (A1370) – Mid 2011
MC968LL/A
MC969LL/A
SKU203381
MacBook Air 11.6″ 2.0GHz Core i7 (A1465) – Mid 2012
MD224LL/A
MD223LL/A
SKU203382
GS203382
GS203382B
Top Case MacBook Air 11 inch A1370
jual top case macbook air
Top Case MacBook Air 11 inch A1370